Flowering Atacama Desert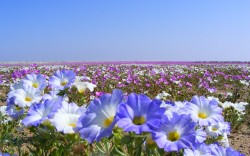 The awakening of a sleeping beauty
Due to Saint Isidro's generosity and after a long rest, the Atacama desert woke up to life this year, covered with colorful and gracefully shaped blossoms. We are talking about the Blooming Desert, a marvel that occurs only every 4 or 5 years, from September to November.
The blooming of the desert is a miracle of nature and the most impressive and beautiful phenomenon to take place in Chile. Hundreds of kilometers of desert, usually only sand and rocks, are transformed in a great carpet of color and life thanks to the kindness of water. The flowering period varies according to the characteristics of the rainfalls, but usually starts at the end of August and may last till November or even December, if these are late.
This year, the region around Huasco, 45 kilometers west of the road (which road?) and following the river of the same name, is one of the best spots to appreciate and enjoy this gift of nature. It may also be seen from the same road 5 North between Vallenar and Copiapó, and the Aguada de Tongoy, a narrow valley situated 35 kilometers south of this seaside town. There the hills are covered with little blue flowers (azulillos), round and intense raspberry colored "guanaco feet", "añañucas" and velvets with delicate yellow petals.

An explosion of beauty
Over 200 species of flowers appear after years of patient waiting. Used to the dry and inhospitable soil, they reappear in glory and majesty. Not all blossom at the same time, they grow alternatively changing the coloring of the ground.
But not only flowers are born at the Flowering Desert. A rich fauna grows around it. Lizards, reptiles, birds and animals like foxes and the "guanaco", share the environment. It is also usual to see insects such as the traditional "desert's little cow" (gyriosomus), wasps and coleopterous like the Meloides.
Everybody's heritage
Since many of the species that bloom at the Blooming Desert phenomenon do not grow anywhere else on the planet, its preservation is fundamental. There are established treks to walk, and cutting flowers is prohibited, as they do not grow in pots nor gardens. The Regional Government Exent Resolution officially protects it to insure that future generations may enjoy this beautiful Atacama spectacle.