Casa de Piedra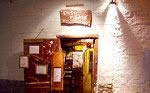 Open all the year. This restaurant has a mixture of the typical chilean food and its famous barbeques, with an exquisite international food.
There are two enviroments: one with a view to the street (formal) and other ample and cossy in the inner garden.
This sector has a central bonfire that gives the palce an exotic ambient to enjoy flavorful dishes.
Services:
Restaurant - Bar - Barbeques
Daily menu and à la Carte
Credit Cards are welcome